MIDLAND, MICHIGAN (Reuters) – Randy Schneider has considered himself a professional Santa since 1999 when he found himself at a JCPenney store buying a beard and boots.
Now, Schneider, 66, has a beard of his own.
At the Charles W. Howard Santa Claus School in Midland, Michigan, some two hundred Santas and Mrs. Clauses came from across the United States, Canada, Denmark and Norway to learn wood toy-making, brush up on storytelling skills, drive sleighs, feed reindeer and, most importantly, spread the Christmas spirit.
Cookies are readily available at all times during the three-day training course on becoming Santa.
"It's the Harvard of all Santa schools," Schneider, a retired crane operator, said of the school, which was established in 1937 and made a non-profit organization in 1987 by directors Tom and Holly Valent.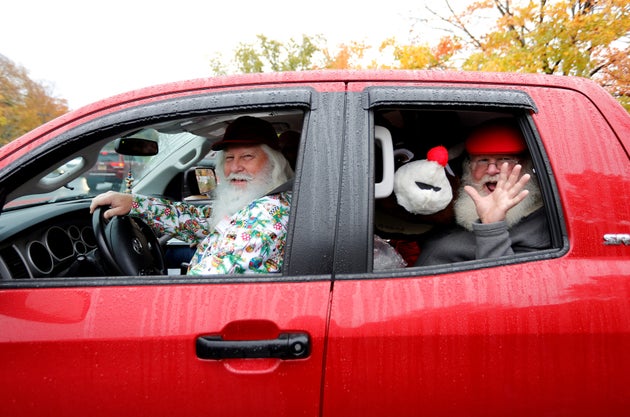 "It's a privilege to be Santa," Tom said, sitting in a tall wooden chair with a "SANTA" engraving and green velvet upholstery. "Every child that comes and sits on Santa's knee remembers that forever so when you're putting an everlasting memory into a child's mind, you want to make sure it's a good one."
Tom and Holly said they had to turn down roughly one hundred Santas because so many people had expressed interest in attending the Santa workshop.
A sea of red cars, many of which had personalized license plates, showed the school was at capacity. A car with a plate from Georgia read "UBGOOD" parked next to a car with a "HOHO" plate from Tennessee. Another, from California, was marked "IMCLAUS."
The organizers also said there was a record number of Mrs. Clauses in 2016. "What a great place to find a husband!" one Mrs. Claus joked.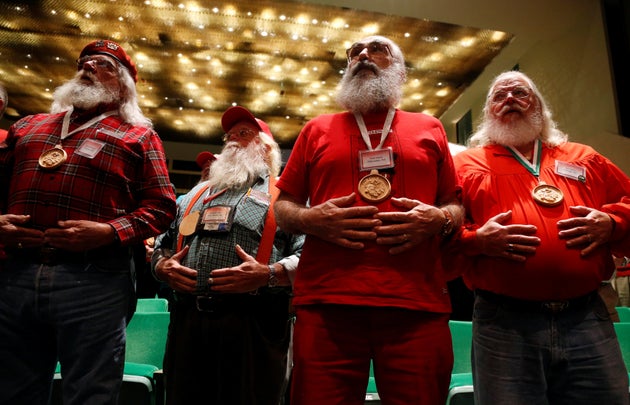 Kathy Armstrong had already found her Santa in college when she knit him a Christmas sweater. The two have been married for 44 years. They both were physical therapists and retired roughly two years ago. That is when they had the idea to attend Santa school.
"Kathy has always collected Santas and I have always had a beard," said Bill.
"We decided it was something we both wanted to do," said Kathy. The sweater Kathy made for Bill symbolized their love for Christmas. "It had reindeer on it," Kathy, who also sewed her husband's Santa suit, said with pride. "And it still fits!" Bill chimed.
Over the three days, the couple struck silly yoga poses, practiced breathing techniques and broke out in song. The school fitness teacher had them dance as if they were wrapping presents, baking cookies and filling stockings to classic Christmas tunes like "Jingle Bells" and "Santa Claus is Comin' to Town" with the rest of their classmates.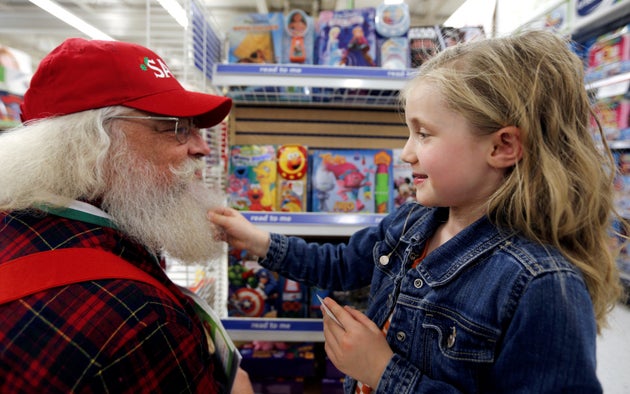 "We even learned sign language," Bill, a loyal member of the International Brotherhood of Real Bearded Santas, said. "It's important to be able to spread Christmas cheer to all children," he added.
In the make-up room, Santa Leon McBryde, formerly a professional clown, taught other Santa tricks of the trade: how to pincurl their moustaches, how to apply blush to their cheeks to make them the right kind of rosy, how to keep their facial hair groomed the Santa way. "The toughest part for me is keeping my hair white," Schneider said with a laugh.
One afternoon, some of the Santas suited up, boarded a bus and made their way to the local Toys R Us. Santa Fred Osther, 80, who traveled from Oslo, Norway to attend this year's training, looked like a Norwegian gnome with his red pointy hat as he shopped around the kids section looking for toys.
A few aisles over, a five-year-old girl, Claire, came up to Santa Barry Westmoreland, tugged lightly on his beard and said: "You really do exist."
(Reporting by Christinne Muschi in Michigan; Additional reporting and writing by Melissa Fares in New York; Editing by Diane Craft).
Read more: https://www.huffingtonpost.com/entry/santa-claus-school-michigan_us_58330acce4b030997bc05851